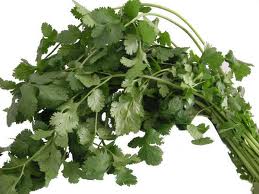 GOOD STUFF TO KNOW ABOUT CILANTRO
Cilantro is a member of the carrot family. It may be useful in the treatment of urinary tract infections.
Both the leaves and the seeds from cilantro have been found to aid in digestion, relieve intestinal gas, pain and distention.
Cilantro soothes inflammation, aid in rheumatic pain,can help treat nausea, headaches, coughs and mental stress.
STORAGE TIPS
Store your cilantro in a plastic bag in the crisper drawer of your fridge. Try to use up in a few days – week.
RECIPES
Cooking & Eating Tips
Cilantro – you either hate it or you love it. If you love it, use it as a garnish in just about any Asian or Mexican dish. Coarsely chop and sprinkle on the top right before serving. Also great in Thai food!