We can't get enough of this Organic Cucumber and Sweet Onion Salad with Greek Yogurt. This is a great dish to prepare fresh or to make the night before.
Cucumber & Sweet Onion Salad w/Greek Yogurt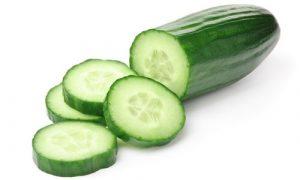 This recipe was created by Dani Lind of Rooted Spoon Culinary
Ingredients
1 cup plain Greek yogurt
1 teaspoon minced garlic
½ thinly sliced sweet onion
2 tablespoons Driftless sunflower oil or olive oil
Salt & pepper to taste
1 long cucumber, peeled in stripes, halved lengthwise and sliced crosswise ¼ inch thick
3 Tbps. chopped fresh herbs of choice (mint, basil, oregano, sorrel, etc.)
Instructions
In a bowl, mix yogurt, garlic, onion, oil and salt/pepper together until smooth.
Chill until ready to serve.
Place a paper towel in a shallow bowl & add a layer of cucumbers, another paper towel, & the rest of the cucumbers.
Let drain for about 10 minutes.
Remove paper towels & mix cucumber and chopped herbs into yogurt mix & serve.
Check out other great recipes from Driftless Organics.
Driftless Organics CSA farm delivers CSA boxes full of wholesome, fresh & organic produce to the Twin Cities, Madison and locally to Viroqua, LaCrosse & Prairie du Chein. Click HERE for more information.