Organic Creamy Fresh Tomato Basil Soup is one of our favorites! We know that you'll love it too.
Creamy Fresh Tomato Basil Soup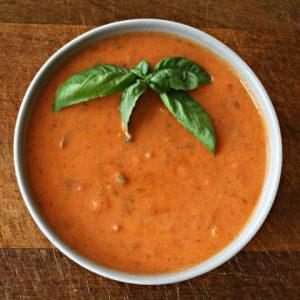 This recipe was created by Dani Lind of Rooted Spoon Culinary
Ingredients
8-10 medium tomatoes, paste type or other red, quartered
1 medium onion, coarsely chopped
1 Tbsp. fennel seed, crushed (optional)
3-4 cloves garlic, minced
3 Tbsp. Driftless Sunflower oil
3+ Tbsp. cream, half & half, or condensed milk
splash of red wine or balsamic vinegar (optional)
20+ large basil leaves, rolled like a cigar & thinly sliced
Instructions
Saute onion in oil on medium heat until translucent.
Add fennel seed & garlic & saute another minute or two, stirring often.
Add tomatoes, cover, & simmer for about 20 minutes.
When tomatoes have broken down, add cream, salt, pepper, wine/vinegar & puree with immersion blender or in food processor until smooth.
Return to stove, add basil leaves, bring back to simmer, & serve.
Serve with French or foccacia bread.
Check out other great recipes from Driftless Organics.
Driftless Organics CSA farm delivers CSA boxes full of wholesome, fresh & organic produce to the Twin Cities, Madison and locally to Viroqua, LaCrosse & Prairie du Chein. Click HERE for more information.