Our Organic Classic Pesto recipe is bursting with flavor! Don't be without this staple in your kitchen!
Classic Pesto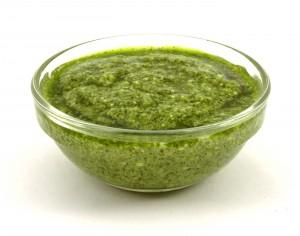 This classic recipe can be altered to match your ingredients – simply use the same proportions and substitute other fresh herbs or mixtures of herbs (cilantro, rosemary, parsley, oregano, etc.) any dry aged cheese (asiago, romano, etc.), & any nut or seed (slivered almonds, pumpkin seeds, sunflower seeds, etc.). I also sometimes add a splash of lemon juice to liven it up. This recipe was created by Dani Lind of Rooted Spoon Culinary
Ingredients
6 c. loosely packed fresh basil or red opal basil (I include small stems)
4-5 cloves garlic
½ tsp. salt
½ tsp. pepper
1 c. Parmesan, grated
1 c. pine nuts or walnuts
⅔ c. Drifttless Sunflower oil
Instructions
In a large food processo, pulse basil, garlic, salt, pepper, & nuts until coarsely ground.
Add Parmesan & pulse a few more times.
With processor running pour in oil in a thin stream until it looks like pesto!
Store in air-tight container (press plastic wrap onto the surface of or pour a layer of oil over the pesto to prevent discoloration).
Keep in refrigerator for about a week or freeze
Most recipes say to leave the cheese out if you're freezing it but I've never had a problem.
Check out other great recipes from Driftless Organics.
Driftless Organics CSA farm delivers CSA boxes full of wholesome, fresh & organic produce to the Twin Cities, Madison and locally to Viroqua, LaCrosse & Prairie du Chein. Click HERE for more information.