Organic Beet Chips made with Driftless Organics beets are a healthy snack that the kids will love!
They are a great side dish with:
Organic Beet Chips made with Driftless Sunflower OIl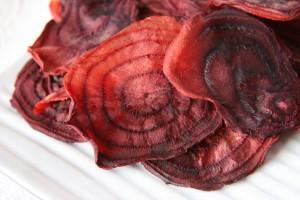 This recipe was created by Dani Lind of Rooted Spoon Culinary
Ingredients
2 pounds large beets, peeled
2 tablespoons Driftless Sunflower Oil
Sea salt
Freshly cracked black pepper
Instructions
Preheat oven to 350°. Line several baking sheets with parchment paper.
Using a mandoline, thinly slice beets to a thickness of 1/16″. In a large bowl, toss beet slices with oil to coat evenly.
On prepared baking sheets, in a single layer, arrange as many slices as will fit without crowding. Bake until crisp, 25-30 minutes, rotating pans once halfway through baking.
Cool chips and blot with paper towels to remove any excess oil.
Repeat, using a cool prepared baking sheet for each batch, until all beet slices are baked.
Toss chips with ¼ teaspoon salt and pepper to taste.
Check out other great recipes from Driftless Organics.
Driftless Organics CSA farms delivers CSA boxes full of wholesome, fresh produce to the Twin Cities, Madison and locally to Viroqua, LaCrosse & Prairie du Chein. Click HERE for more information.