A new spin off from traditional basil pesto, this Organic Arugula Pesto Sauce is just as delicious! Especially when made with organic arugula straight from Driftless Organics!
Try on favorites like:
Pasta
Pizza
Grilled Veggies
Chicken
Arugula Pesto Sauce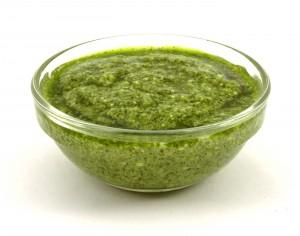 This recipe was created by Dani Lind of Rooted Spoon Culinary
Ingredients
Your bag of arugula
¼ cup pine nuts (or walnuts)
⅓ cup Parmesan cheese
½ tsp. salt
1 lg. clove garlic, chopped
2½ tbsp. Driftless sunflower oil or olive oil
¼ cup hot water
Instructions
In a food processor pulse together all ingredients except oil and water until arugula is chopped fine.
With motor running add oil in a stream, blending mixture until smooth.
Sauce may be made up to this point 1 week ahead and chilled, its surface covered with plastic wrap.
Bring sauce to room temperature to continue.
Stir in ¼ cup hot water plus additional for thinner consistency if desired
Check out other great recipes from Driftless Organics.
Driftless Organics CSA farm delivers CSA boxes to the Twin Cities, Madison and locally to Viroqua, LaCrosse & Prairie du Chein. Click HERE for more information.