Our crunchy Organic Turnip Salad with Summer Savory Dressing is refreshing and delicious!
Need some of Driftless Organics famous Sunflower Oil? Check it out here and we can deliver it with your next CSA box!
Turnip Salad with Summer Savory Dressing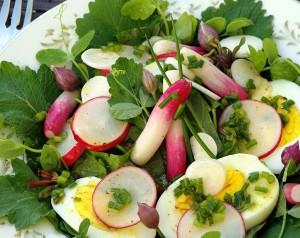 This recipe was created by Dani Lind of Rooted Spoon Culinary
Ingredients
For salad:
Salad Mix/Lettuce (half the bag of your greens – half the head of lettuce, mixes)
2 salad turnip, sliced
2-3 medium radishes, sliced
2 green garlic stalks (white part + about a third of the green), chopped
4 hardboiled eggs, sliced (optional)
For vinaigrette:
1 part balsamic vinegar combined with 3 parts Driftless sunflower oil
1 Tlbs. Fresh Summer savory, minced.
Add more for a stronger herb flavor.
Instructions
Mix all ingredients save the hardboiled eggs in a large salad
bowl. Lay the eggs over the top of the mixed, dressed salad.
Whisk vinaigrette ingredients together and serve over salad.
Check out other great recipes from Driftless Organics.
Driftless Organics CSA farm delivers CSA boxes full of wholesome, fresh & organic produce to the Twin Cities, Madison and locally to Viroqua, LaCrosse & Prairie du Chein. Click HERE for more information.