Fresh Winter Vegetables & French Onion Goat Cheese Dip
Ingredients
1 large yellow onion – half of it cut into ½" rings & the other half finely chopped and seperated
1 clove garlic
4 Tbsp. olive or Driftless sunflower oil
2 tsp. white wine vinegar
½ c. mayo
½ c. sour cream
¼ c. goat cheese, crumbled (about 2 oz.)
juice & zest from ½ a lemon
1 tsp. ea. Worcestershire & hot sauce
salt & pepper to taste
raw winter vegetables like carrots, beauty heart radishes, turnips, rutabagas, &/or beets
Instructions
In a small skillet, heat 1 Tbsp. oil over medium/high heat & add the half onion cut into rings. Saute until starting to brown & turn down the heat to low/medium. Stir occasionally, scraping up any browned bits, until richly browned & starting to caramelized, about 15 minutes. Add garlic & saute another few minutes, then deglaze pan with vinegar & transfer caramelized onions/garlic to a food processor to cool. Meanwhile heat remaining oil in same skillet over medium/high heat & add the chopped half onion. Fry until golden, about 8 minutes, reduce heat to low/medium & cook another 10 minutes or so, until golden deep brown. Drain fried onions over a fine-mesh strainer inside a heat-proof bowl (reserve onion-infused oil for cooking with). Add mayo, sour cream, goat cheese, lemon juice/zest, Worcestershire & hot sauce to cooled caramelized onions in the food processor & puree. Stir in ½ of the fried onions & salt & pepper to taste. Serve topped with remaining fried onions.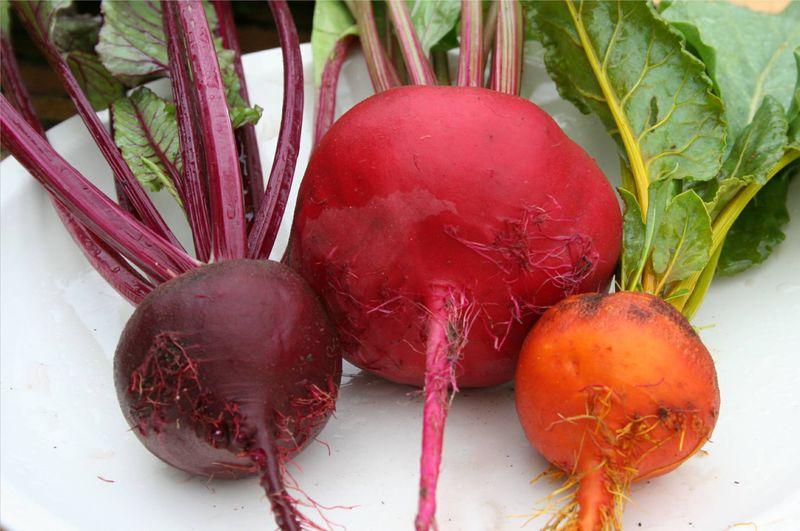 Roasted Beets with Balsamic Vinegar, Orange & Mint
Ingredients
2½ lbs baby beets (about what's in your box)
¼ cup Driftless Sunflower Oil
Salt and freshly ground pepper, to taste
¼ cup balsamic vinegar
3 Tbs. firmly packed dark brown sugar
2 Tbs. finely slivered fresh mint
2 oranges, sectioned
½ cup blue cheese (optional)
⅓ cup walnuts (optional)
Preheat an oven to 400ºF.
Instructions
Preheat an oven to 400ºF.
Thoroughly wash the beets and pat dry with paper towels.
Place in a roasting pan, add the oil, season with salt and pepper, and toss the beets to coat. Cover the pan with aluminum foil and bake until the beets are tender when pierced with a fork, about 45 mins – 1 hour. Transfer the pan to a wire rack and let the beets cool to room temperature. If you want (not necessary) slip off the skins.
Quarter the beets lengthwise. Meanwhile, in a small saucepan over medium heat, combine the vinegar and brown sugar and bring to a simmer, stirring to dissolve the sugar. Cook until the sauce is slightly thickened, 5 to 7 minutes.
Add orange sections and simmer for 3-4 minutes. Remove from the heat and let cool. Just before serving, in a large bowl, combine the beets, balsamic sauce, half of the mint, salt and pepper, and toss to combine.
Transfer to a serving platter. Garnish with the remaining mint,
blue cheese and walnuts. Serve immediately.