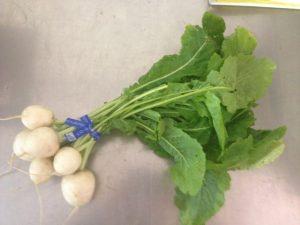 GOOD STUFF TO KNOW
The Salad Turnip is a special veggie. It's nothing like the classic turnip, actually. It's soft enough, even when raw, to cut with a butter knife. It is sweet and even a little fruity, but also has a bit of a bite like the classic turnip. And the greens are great to eat, too!
STORAGE TIPS
Remove the tops and store separately in the refrigerator. They last at least a week refrigerated.
RECIPES
Cooking & Eating Tips
One can eat salad turnips raw or cooked. They are excellent in a hearty salad. Slice and saute them in butter or sunflower oil with some crushed garlic for a quick and yummy side dish.