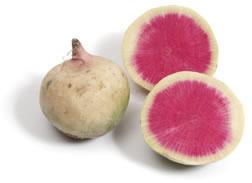 GOOD STUFF TO KNOW ABOUT RADISHES
We grow 2 very different types of organic radishes: the spring and fall radishes which are the small round red ones that you see in relish trays and such. We usually send these in your CSA boxes with their tops on (they are easier to bunch this way, plus some people like to eat the greens!). And then there's the beauty heart radishes and purple daikon radishes that we put in wintertime CSA boxes. These gems are much sweeter and are absolutely beautiful on the inside. They brighten even the greyest of winter days are are wonderful additions to a veggie tray.
Radishes will give you some of the cutest punches in the nose you'll ever have, and we say that as advocates of not getting punched anywhere. Known to actually help the body decrease excess heat, The Radish also aids in digestion by helping us eliminate toxins. And eating radishes when you have a cold is a great way to speed up the recovery, since radishes reduce mucus; they are great for building up immunity to fight any viral infection, though, with all that Vitamin C they pack. Loaded with fiber, phosphorous, zinc, and lots of water, radishes also help keep you hydrated. And the phytonutrients they contain are cancer-battling.
STORAGE TIPS
To keep radishes for over a week, here's a couple of tips. Separate, clean and eat up the greens when you get them home. Scrub the radishes well to get off any sand and dirt residue, and rinse in cold water. You can store your radishes in either a large jar or a gallon-sized resealable bag by lining the bottom with damp paper towel, and layering radishes to capacity with more damp paper towel. Keep in the fridge. They might even last well over a week!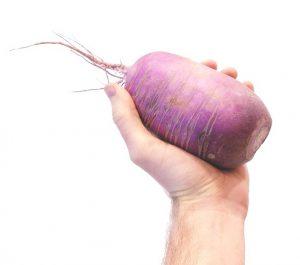 RECIPES
Cooking & Eating Tips
They can be braised (cooked over low heat in a covered pan), roasted, steamed, boiled, and sauteed. Of course, you can also eat them raw as they are (many of us like to do that), julienne them into a salad or cold dish, or slice them thin and soak in some fresh lemon juice to give an added zing!